DESIGNING FOR
JERZY KOSINSKI:
THE EMBELLISHED BIRD
An Essay by Roy R. Behrens
An earlier, different version of this, titled "Cover Story," was published in PRINT magazine (New York).
Nov-Dec 1996, pp. 24-25ff.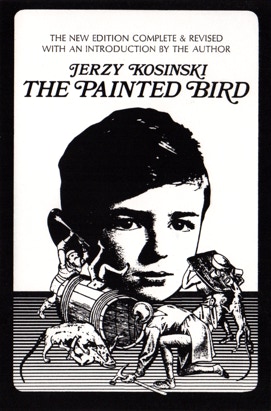 Roy R. Behrens, dust jacket for Jerzy Kosinski's The Painted Bird (Houghton-Mifflin, 1976)
Above In keeping
with his penchant for mystic and intrigue, any envelopes from Kosinski were heavily embellished with rubber stamps, stickers and notations.
Right The initial dusk jacket proposal. 
Right A detail of one of the photographs supplied by Kosinski, showing himself with his head shaved.
Right The final dust jacket, as published. 
Above The announcement of the book by the Book of the Month Club. Below An inscription from the author to the designer