Groucho Marx—
Outside of a dog, a book is man's best friend. Inside a dog, it's too dark to read.
Ballast Quarterly Review was a periodical commonplace book that began publication in 1985. Its title is an acronym for Books Art Language Logic Ambiguity Science and Teaching, as well as a distant allusion to BLAST, the short-lived publication founded during World War I by British author P. Wyndham Lewis, a Vorticist artist and writer. It ceased publication in 2005.
​
BALLAST was mainly a pastiche of astonishing passages from books, magazines, diaries and other published writings. Put differently, it was a journal devoted to wit, the contents of which were intended to be insightful, amusing or thought provoking.  
​
Reprinted on this page is an interview with the magazine's founding editor and publisher, Roy R. Behrens, conducted by independent media critic Barry Pye in 2002. Copyright © by Bobolink Books. All rights reserved.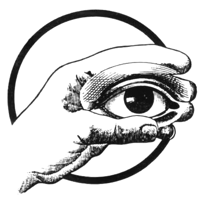 Above and right The first three issues of Ballast Quarterly Review (1985-1986)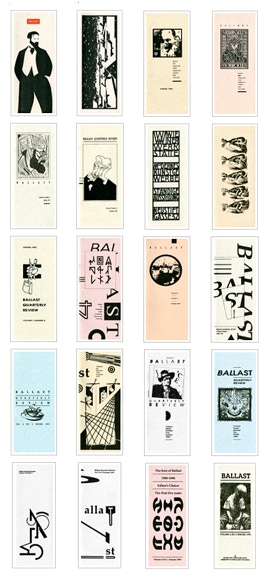 Above All issues of BALLAST are in process of being posted online where they can be viewed on screen or downloaded as printable pdfs.The printed originals are in the collection of the Rod Library at the University of Northern Iowa. Click here to access the files.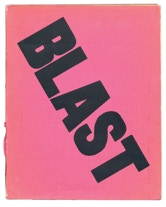 Agnes Elizabeth Benedict (Progress to Freedom)—
Whenever some one speaks with prejudice against a group—Catholics, Jews, Italians, Negroes—someone else usually comes up with a classic line of defense: "Look at Einstein!" "Look at Carver!" "Look at Toscanini!" So, of course, Catholics (or Jews, or Italians or Negroes) must be all right. They mean well, those defenders. But their approach is wrong. It is even bad. What a minority group wants is not the right to have geniuses among them but the right to have fools and scoundrels without being condemned as a group.
Editor's note: It was not often that current events (world or otherwise) were referred to in an issue of BALLAST. But in at least two cases, there are implicit references on the covers to events that were concurrent with that issue. On the far right, as foretold by the airplane, is a cover that alludes to the attack of 9-11. And the issue next to that (with sequential thumbnail drawings by Gary Kelley) refers to a farming accident in which I was struck in the eye by a rock or piece of metal while mowing the lawn. Despite numerous surgeries, I eventually lost that eye.—RB
James Joyce—
In gutter dispear I am taking my pen toilet you know that, being leyde up in bad with the prevalent distemper I opened the window and in flew Enza.
Gerald Brenan
(Thoughts in a Dry Season)—
A cow does not know how much milk it has until the milkman starts working on it. Then it looks round in surprise and sees the pail full to the brim. In the same way a writer has no idea how much he has to say till his pen draws it out of him. Thoughts will then appear on the paper that he is amazed to find that he possessed.
William James—
The moral flabbiness born of the executive worship of the bitch-goddess success. That—with the squalid cash interpretation put on the word success—is our national disease.