This essay was privately printed in 2018 as a full-color laser-printed booklet. It was published in conjunction with an exhibition of camouflage artifacts, titled ASSEMBLY: The Work of Dazzle Camouflage, at the Hearst Center for the Arts, Cedar Falls IA, from October 5 through November 25, 2018.
The essay can be read online on this webpage simply by clicking on each single page as reproduced on the right. Any page that has a magnifying icon will enlarge on screen by clicking.
US SHIP CAMOUFLAGE DECEIVES HUN-BOATS: Success of Navy Partly Due to Clever Painting in The Washington Herald. May 10, 1918—
…The American camouflage artists have hit upon several unique and baffling designs. The general public can gain no adequate idea of the weird appearance of our ships in the submarine zone. The destroyers leaving this side for duty abroad are painted the dull war gray. But when they arrive at the base of operations of the fleet directed by Admiral Sims they undergo great changes.
    Admiral Sims' fleet is now known as "Sims' circus," because of their various coloring.
    The American painters have been daring in their conceptions of the possibility of deceiving the enemy and have been very successful. In fact, it has not been easy at all times for the destroyers sent out to pick up American convoys to find the ships they sought to guard.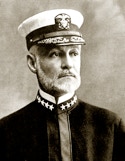 Under the Big Top at Sims' Circus:
Ship Camouflage Behind the Scenes in WWI
An Essay by Roy R. Behrens (copyright © 2018)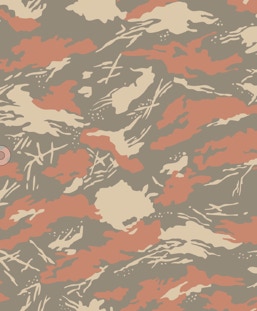 Above Two photographs of the exact same arrangement of a dazzle-painted ship model and a painted wooden block. The top photograph is taken from the low, surface-level point of view of a U-boat periscope, while the bottom photograph is from a higher observation point. Nothing has been moved, except for the height of the camera. Note how difficult it is to guess the directional course of the ship from the periscope gunner's point of view. These are Everett L. Warner's photographs of models in the Design Subsection of the US Navy's Camouflage Section. He discussed these in an article titled "The Science of Marine Camouflage Design" in Transactions of the Illuminating Engineering Society Vol 14 No 5. July 21, 1919, pp. 215-219. The same article has also been reprinted in Roy R. Behrens, ed., SHIP SHAPE: A Dazzle Camouflage Sourcebook (2012).